Pál Dunay
ASSOCIATE PROFESSOR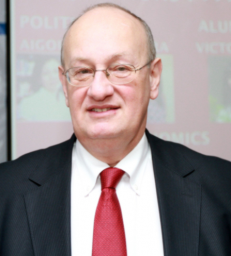 Short CV:
Pál Dunay (1957) is associate professor at the Institute of Political and International Studies of the Social Science Faculty of Loránd Eötvös University. He is simultaneously professor of NATO and European Security Issues of the George C. Marshall European Center for Security Studies in Garmisch-Partenkirchen, Germany. Between 2014 and 2016 he was Director of the OSCE Academy in Central Asia in Bishkek, Kyrgyzstan. He was faculty member of the Geneva Centre for Security Policy (GCSP) and course director of the International Training Course in Security Policy (ITC). He has been ITC course director between 1996 and 2004, in 2005-2006 and also between 2007 and 2014. Between 2004 and early 2007 he was senior researcher at the Stockholm International Peace Research Institute (SIPRI). In 2007 he was director of the Hungarian Institute of International Affairs and member of the advisory board on foreign and security policy of the Prime Minister of Hungary. Between 1982 and 1996 he was assistant and later associate professor at the International Law Department of the Faculty of Law and Political Sciences of Loránd Eötvös University where he graduated in 1982.
He has a dr. univ. degree in international law at Loránd Eötvös University (1991), a Ph.D. in international relations at Corvinus University of Economy (2001) and habilitation at Loránd Eötvös University (2016).
He is the author of 320 publications.
Selected publications:
- (with Alyson J. K. Bailes, Pan Guang and Mikhail Troitsky), The Shanghai Cooperation Organization. SIPRI Policy Paper 17, May 2007, pp. 60
- The OSCE in Crisis. Chaillot Paper 88. April 2006, pp. 97
- (with Wolfgang Zellner), Ungarns Aussenpolitik 1990-1997: Zwischen Westintegration, Nachbarschafts- und Minderheitenpolitik (Baden-Baden: Nomos Verlagsgesellschaft, 1998), pp. 490
- Verifying Conventional Arms Limitations: The Case of the November 19, 1990 Treaty on Conventional Forces in Europe. (Bochum: N. Brockmeyer Verlag, 1991), pp. 140
- Military Doctrine: Change in the East? (New York - Boulder, CO.: Westview Press - Institute for East-West Security Studies, 1990), (Occasional Paper 15) pp. 83